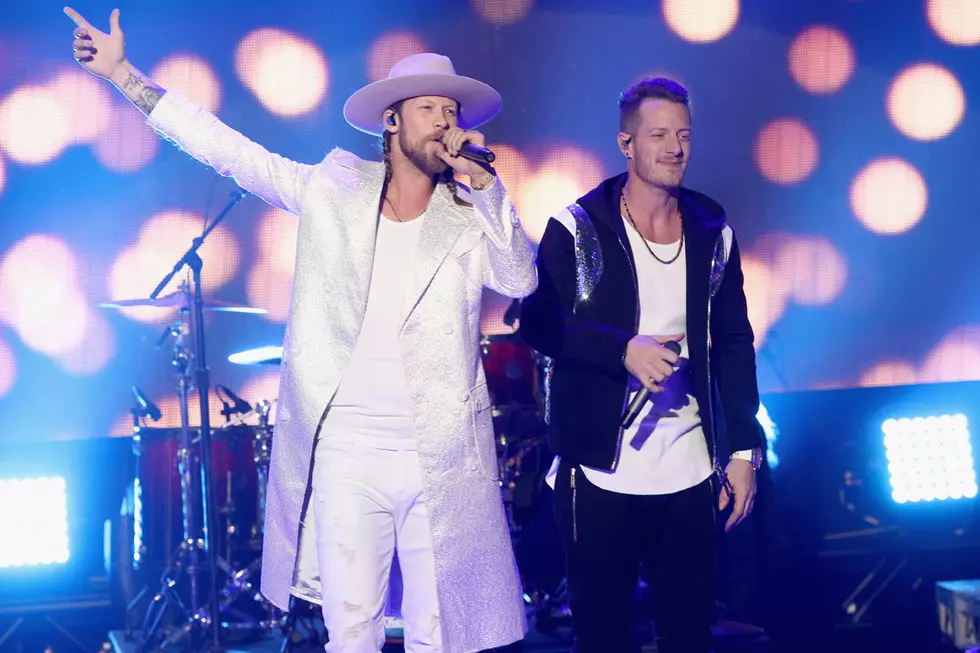 Florida Georgia Line Say Fourth Album Is Coming Early 2019
Frederick M. Brown, Getty Images
Florida Georgia Line are riding high after recently celebrating four chart toppers in Nashville, and the duo continue to look ahead at their fourth studio album. In an interview with Billboard, FGL share that their new project will likely be available in early 2019—but fans won't have to wait too much longer for new music.
"The plan is try to release a song or two every month until the album comes out," Tyler Hubbard tells the publication. "Every song, we're really, really proud of—from 'Swerve,' which has a kind of a different hip-hop feel, to a song called 'People Are Different,' an amazing life song."
The duo recently released the album's lead single, "Simple," and Hubbard says his new role as a father to nearly six-month-old daughter Olivia has influenced his songwriting. As a result, fans can expect some songs about his home life.
"Having a little girl in the house, it's been so amazing. [Brian Kelley] and I both write from life experiences a lot, and we're inspired through our day-to-day lives," he says. "I've felt really, really inspired lately and excited about life, excited to work even harder to support her. A lot of great song ideas come out of big life moments and this is definitely a big life moment."
Hubbard further explains that he and bandmate Kelley are on the fourth chapter of their lives with fans—and while he admits that he doesn't know how many chapters they have left, the duo still feel like they're in the beginning stages.
Things have changed drastically for FGL, who met at Belmont University in 2008. They realize that many people rely on them now, and in the beginning of their career there wasn't as much pressure to provide for their families, fans and employees. Regardless, they try to stay positive and work at maintaining their career.
"We just maintained a healthy relationship because we loved writing songs together and playing shows on the weekends. But as [our careers] have grown and our families and a lot of employees and fans now depend on us, it hinges on BK's and [my] relationship," Hubbard adds. "We take a lot of pride in trying to keep that thing healthy. Just like a marriage, it takes work, and we like to work at it. And it's a lot of fun for us. Hopefully we can do this thing until the day we die together."
See Photos from FGL's set at the 2018 Taste of Country Music Festival