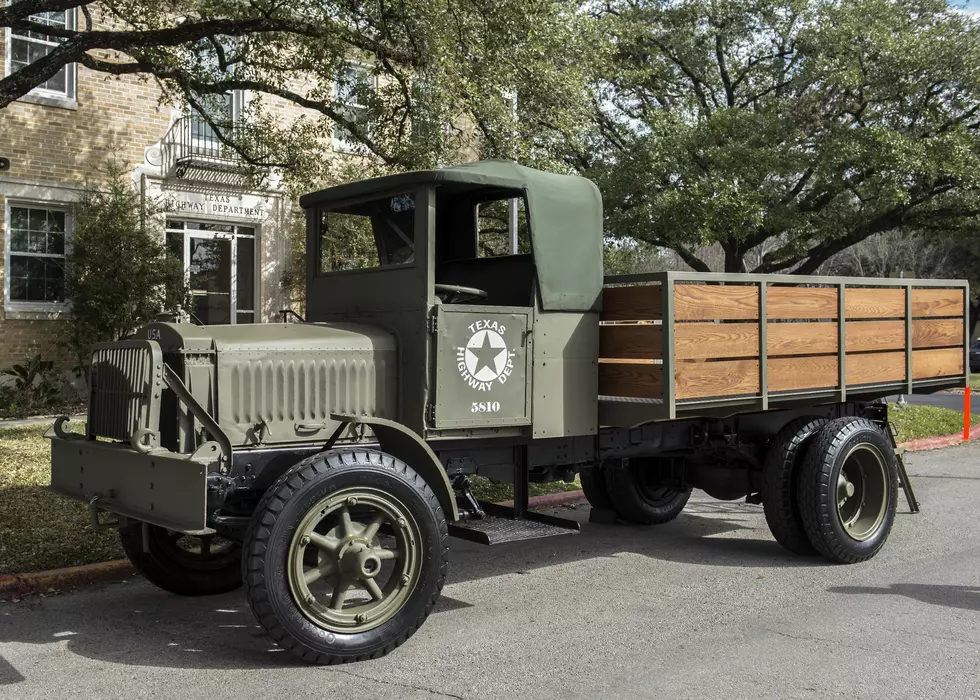 TXDOT Celebrates 100 Years of Service
courtesyTXDOT
The Texas Department of Transportation is celebrating a century of service this year with a traveling exhibit which includes a refurbished 27 foot long 1918 Liberty Truck and other transportation memorabilia.

The San Angelo District will host a community event on Thursday, May 18, 2017, from 3pm – 7pm in celebration of the occasion. The public, former employees and retirees are all welcome at the district office located at 4502 Knickerbocker Road in San Angelo.
Festivities will include an antique equipment display, cars from each decade provided by the Wool Capital Region Antique Auto Club, and a live broadcast with KGKL 97.5 FM from 3 pm – 5pm. Two videos will also be replayed throughout the open house. One features the history of the agency for the last 100 years and the other video features the history of the San Angelo District with interviews from retired and current employees.
TxDOT would like individuals to sign the centennial poster, take a selfie with "Miss Liberty", view demonstrations, and enjoy light refreshments.  The event will also feature lots of old photographs and exhibits. "Share a Memory" cards will be available for guests to write a memory of TxDOT. These cards will be placed in a time capsule later this year at the district headquarters in San Angelo, to be opened in 50 years. Guests can also help identify the people and places in old photographs.
The San Angelo District encompasses Coke, Concho, Glasscock, Irion, Kimble, Menard, Reagan, Real, Runnels, Schleicher, Sterling, Sutton, and Tom Green counties. As one of the 25 districts in TxDOT, it covers over 19,000 square miles and has 3,200 miles of state-maintained roads. Outside of the district headquarters office in San Angelo, there are area offices in Junction and San Angelo as well as eleven maintenance sections spread across the district. The district employs 214 people.
In 1917, the San Angelo District was known as "Division 6" and had 34 counties within its boundaries. Renamed Division 7 in 1936, the "Office Plant" was located at 100 Paint Rock Road. This complex is now owned by the San Angelo Independent School District. Construction of the district complex on Knickerbocker Road began in1967, with the building of the warehouse and laboratory. It was completed in 1968 with the addition of the administration building.
The most significant projects in the history of the district were the construction of 150 miles of Interstate 10, improvements to 132 miles of US 87 and completion of the $106 million dollar Loop 306/Houston Harte Expressway.