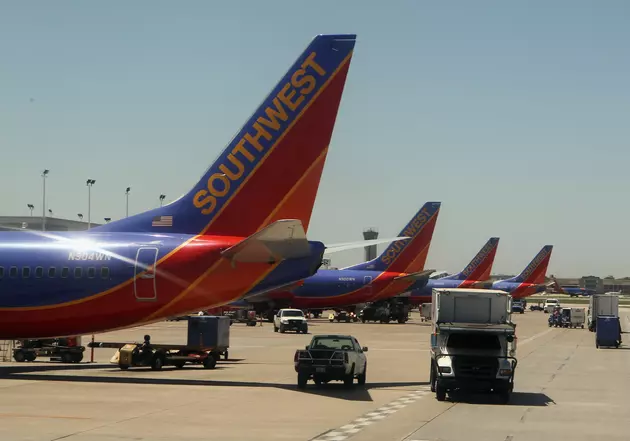 Southwest Airlines New Earnings Report Not Good
Credit: Bruce Bennett, Getty Images
DALLAS (AP) — Southwest Airlines Co. says third-quarter profit fell 34 percent on falling fares and higher costs, and the company gave a weak revenue forecast for the rest of the year.
The shares plunged more than 11 percent in Wednesday morning, leading other airline stocks lower too.
Southwest said that overall pricing remains "soft," and it forecast that a key measure of revenue per mile will fall by between 4 percent and 5 percent in the fourth quarter — more sharply than it fell in the third quarter.
That was not what investors wanted to hear. They have been looking for signs that airlines might soon end a two-year slide in prices caused by the carriers adding more seats than can be absorbed by demand.
J.P. Morgan analyst Jamie Baker said Southwest's forecast "suggests management is increasingly content with lower forecasted returns given gently rising fuel and sharply rising labor costs."
The average fare on Southwest — one of the few airlines to disclose that figure — fell 5 percent in one year to $147. As a result, passenger revenue for every seat every mile dropped, as it did at American Airlines, Delta Air Lines and United Airlines.
Southwest CEO Gary Kelly vowed that he would "manage our growth prudently." But the airline still expects to grow by up to 4 percent next year partly because of new flights to Cuba and new service from Los Angeles to Mexico — both will start in the coming weeks.
Dallas-based Southwest, the nation's fourth-biggest carrier, said it earned $388 million in the third quarter, down from $584 million a year ago, when it benefited from a new credit-card deal.
Excluding the cost of union contract signing bonuses and other one-time items, Southwest said it would have earned 93 cents per share. That was good enough to beat the forecast of 87 cents per share among analysts surveyed by Zacks Investment Research.
Revenue dropped more than 3 percent to $5.14 billion.
Spending rose nearly 9 percent, however, led by a 12 percent increase in labor costs. Across the industry, unions have been negotiating for higher pay.
Meanwhile, fuel spending that has been falling was flat in the third quarter, a sign that the benefit of lower oil prices may have run its course.
Southwest shares tumbled $4.95, or 11.7 percent, to $36.99 in morning tradingl, and they dragged other airline stocks down by smaller percentages.
Through Tuesday, Southwest shares were down nearly 3 percent in 2016 while the Standard & Poor's 500 index was up nearly 5 percent. The stock has fallen 19 percent in the last 12 months.
Elements of this story were generated by Automated Insights (http://automatedinsights.com/ap) using data from Zacks Investment Research. Access a Zacks stock report on LUV at http://www.zacks.com/ap/LUV