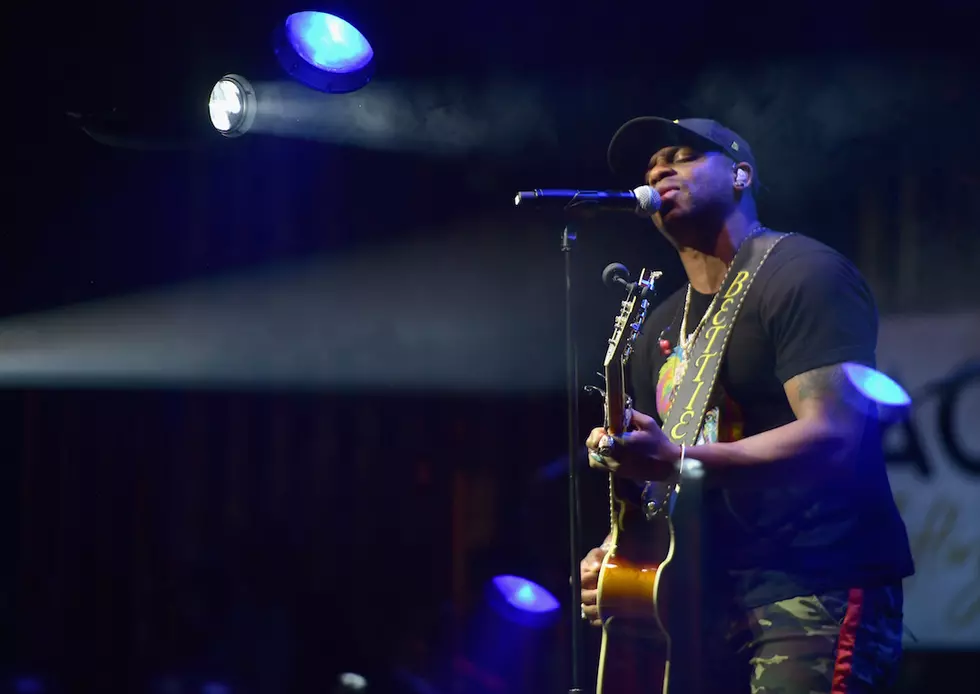 Jimmie Allen's Father Has Died
Matt Winkelmeyer, Getty Images
Jimmie Allen is mourning the death of his father. The rising country star shared on social media on Friday (Sept. 20) that his dad recently passed away, though his words reflect mostly on sweet memories they shared rather than the details of his death.
"The thought of the person you love being in heaven is a lot easier to process than them being in the dirt rotting away. What really happens after death? Honestly I don't know," Allen writes on Instagram, sharing an old photo of his dad and himself as a toddler, both in red shirts. "Saying goodbye to my daddy is the hardest thing I've ever had to do. As you get older you sometimes think about losing your parents, but nothing prepares you for it when it actually happens."
Allen shares that he learned of his dad's death while he was out fishing at one of their favorite spots in Lewes, Del. (Allen grew up in Milton, about 20 minutes away). "I decided to do something we both enjoyed doing rather than go to the hospital and see him laying there lifeless," Allen explains.
"As I reeled my line I thought about all the memories me and dad had fishing there. I'm gonna miss the man that raised me on country music and who I give credit for my career today, The man that taught me the meaning of hard work," Allen reflects. "I love you dad and I'm thankful for the time we had. Wherever you are now I hope I showed you I love you and how much you mean to me."
"He's a small-town boy, country guy," the singer shares of his dad, James "Big Jim" Allen, who was 65 years old when he died. "Military, played sports, listened to nothing but country music. I'm talking, like, nothing — you change the dial on his radio and you'll get punched in the forehead."
These days, Allen -- who has been in Nashville for years, though he's just now coming into the mainstream spotlight -- is starting a family of his own. He recently proposed to girlfriend Alexis Gale, also a Milton native, and has a son, 5-year-old Aadyn, from a previous relationship. The artist says he really fell for Gale -- who is a makeup artist and aesthetician -- as he watched the two interact.
"Her smile melts me, her pure heart challenges me to love better, the way she motivates and supports me is unlike anything I've ever seen, the way she loves me and my son is unlike anything I've ever experienced," Allen gushes. "It feels incredible to find the type of love I've been writing songs about all these years!"
Allen released his debut album, Mercury Lane, at the end of 2019. His debut single, "Best Shot," hit No. 1 on the charts.
Who Is Jimmie Allen? 5 Things You Need to Know
WATCH: Jimmie Allen's "Make Me Want To" Is Gonna Be Your New Addiction