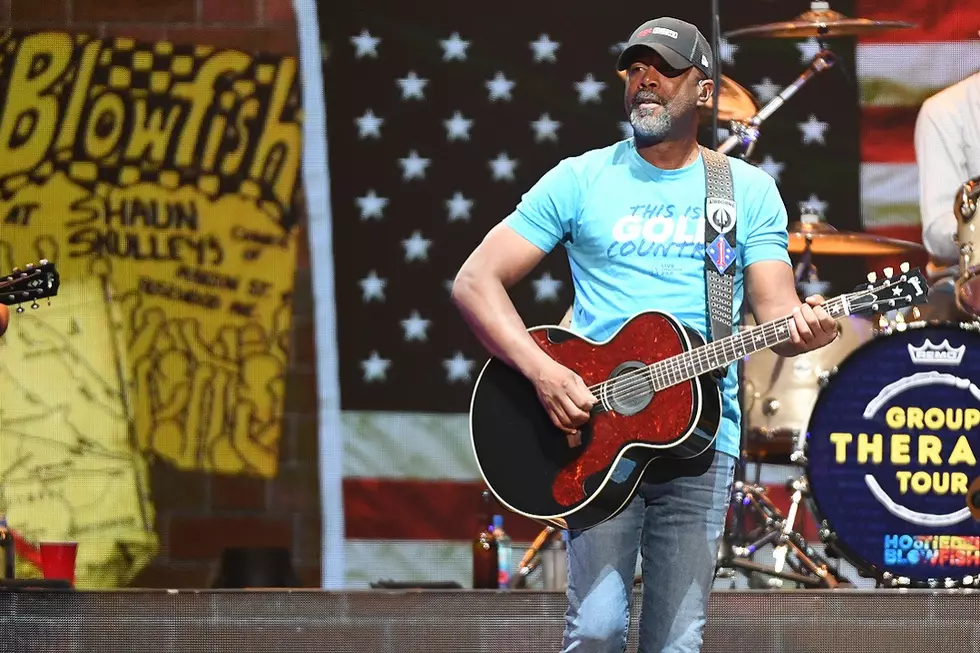 Hootie & the Blowfish's 'Imperfect Circle' Features Collaborations, Co-Writes With Sheryl Crow, Ed Sheeran + More
Ethan Miller, Getty Images
Country star Darius Rucker's original band, '90s rockers Hootie & the Blowfish, have announced a new album -- their first in nearly 15 years. Imperfect Circle is due out on Nov. 1.
A full track listing for Imperfect Circle has not yet been announced, but according to USA Today, the project is dotted with star collaborators and special guests. Sheryl Crow lends backing vocals throughout the record, while rising singer-songwriter Lucie Silvas duets with Rucker on "Wild Fire Love," a song co-written with pop star Ed Sheeran.
"I can honestly say to you that we've never once said that we need to make anything we do sound like anything. Even way back when we were just a cover band working at frat parties in South Carolina, we just played the songs," Rucker muses. "That's one reason why we've always split our publishing: No matter who actually writes it, once we get a song into that four-man groove, it becomes what it is."
Jeff Trott and Frank Rogers co-produced Imperfect Circle. The project also features a song called "Turn It Up" -- brought to the table by guitarist Mark Bryan -- and "Rollin'," which is being made available to fans who pre-order the album in advance of the song's Sept. 6 release date.
Imperfect Circle will be Hootie & the Blowfish's first new album since 2005's Looking for Lucky. Following the release of that record, Rucker and his bandmates went on hiatus, leaving Rucker time to pursue his solo country career. The new record is being released via UMG Nashville, Rucker's label home as a solo artist.
Hootie & the Blowfish have been spending their summer on the road together, on their Group Therapy Tour. The trek, which began in late May, will conclude in the band's hometown, Columbia, S.C., in mid-September. Fellow '90s rocker Barenaked Ladies are their special guests.
10 Country Crossovers That Actually Worked