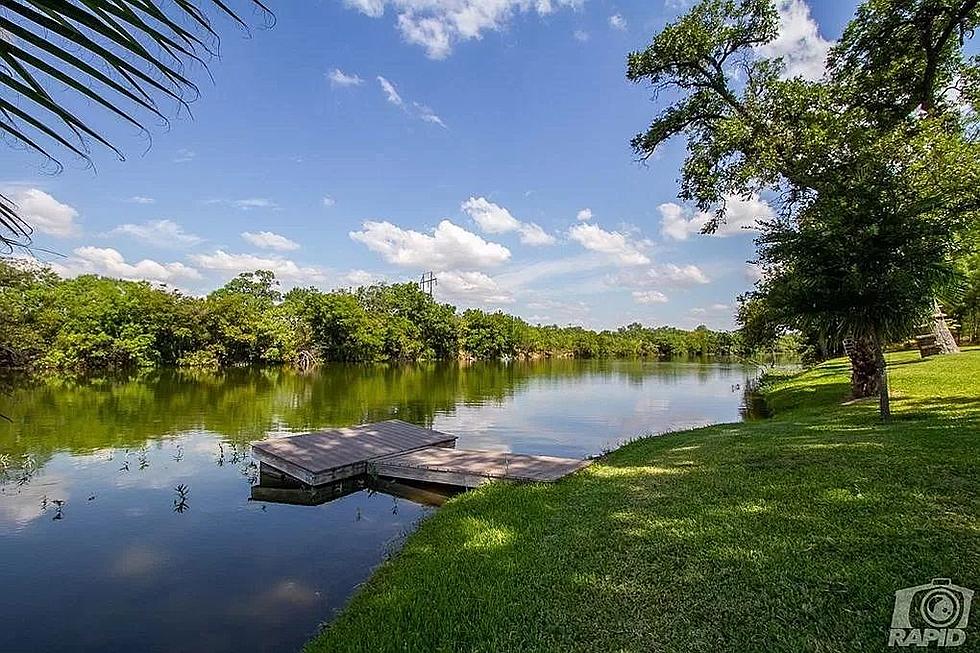 5 Sides of Town That Remind Us Of The Uniqueness of San Angelo
Nancy Vincent/ Laura Scott, Berkshire Hathaway Home Services via Zillow
San Angelo is all about contradictions.  In fact,  San Angelo's location suggests that our city should look dry and almost treeless, like Abilene or other cities in West Texas. Yet, most of San Angelo is lush and green.  We have towering trees to shade us and homes with lovely green grass lawns. Plus. the sheep statues are everywhere.  We don't have War Hero statues or old dusty generals on horses.  Our statues honor our way of life.
So here are five locations in San Angelo to see to remember how unique and special San Angelo truly is as a community.
1) The International Waterlily Collection 2 S. Park Street San Angelo
This incredible collection of waterlilies is a wonder of the modern world. This incredible world famous collection has been designated by the International Waterlily and Water Gardening Society as the best collection in the world. 
This incredible collection of tropical waterlilies is the brainchild and life's work of Ken Landon.  The Texas Legislature has officially designated the Nymphaea, Texas" dawn as the Official Water Lily Of the State of Texas and it was created here in San Angelo.
Scientists will tell you these lilies represent such a wide array of colors, that the human eye cannot perceive them all.  This incredible collection can be viewed for free.
2) Twin Buttes South Of San Angelo
What a great way to demonstrate the contrasts of living in San Angelo.  Twin Buttes, or Twin Peaks, is a widely recognized feature to the south of the city.  It has become a symbol of San Angelo.  Unlike the International Water Lilly Collection, the geology couldn't be more stark.  Unlike the plush green vistas regularly found around San Angelo, these peaks and trails around them are reminiscent of an Old West Movie.  If you ever encounter John Wayne on the trails there, just move in.  Surely, his ghost would feel comfortable there.
3) The Pearl of the Concho Mermaid Statue River Walk Park
Other cities have "river walk" parks.  The most famous is in San Antonio. Considering a park is meant to be a place to relax and unwind, then by definition, the San Angelo River Walk may be among the best. There are gardens, playgrounds, running and walking trails, fishing, The Bill Aylor Sr. Memorial River Stage, and golfing. What truly makes the San Angelo River Walk Park unique, is the mermaid. In the middle of the Concho, this is an enlargement of the original sculpture of Jayne Charles Beck. Beck was a San Angelo artist who passed away in 1993.  This statue is a lasting testimony to his talent.
4) Goodfellow Air Force Base 351 Kearney Blvd.
The community of San Angelo embraces Goodfellow Air Force Base.  It is part of the fabric of our community. Goodfellow began as a pilot training base during World War II. Today it is responsible for training developing exceptional intelligence, surveillance and reconnaissance for the U.S. and our allies.
5) Angelo State Campus
The fact that nearly half of Angelo State students graduate debt-free, is one incredible unique quality of this incredible campus. There are so many student housing options on the 268 acre campus and nearby that are comfortable AND affordable. Angelo State is woven into the fabric of they community.  The sports teams are San Angelo's sports teams and we all feel the rise and fall of victory and defeat. The Mayer Museum is more like a community museum. In many communities, several colleges vie for attention.  In San Angelo, we have Angelo State.  The University never disappoints.
LOOK: Here are the 10 US golf destinations with the most courses per capita
Discover where you can find the best access in the country for your pick of courses, the unique terrain that lends itself to world-class golf, and what makes select clubs noteworthy.