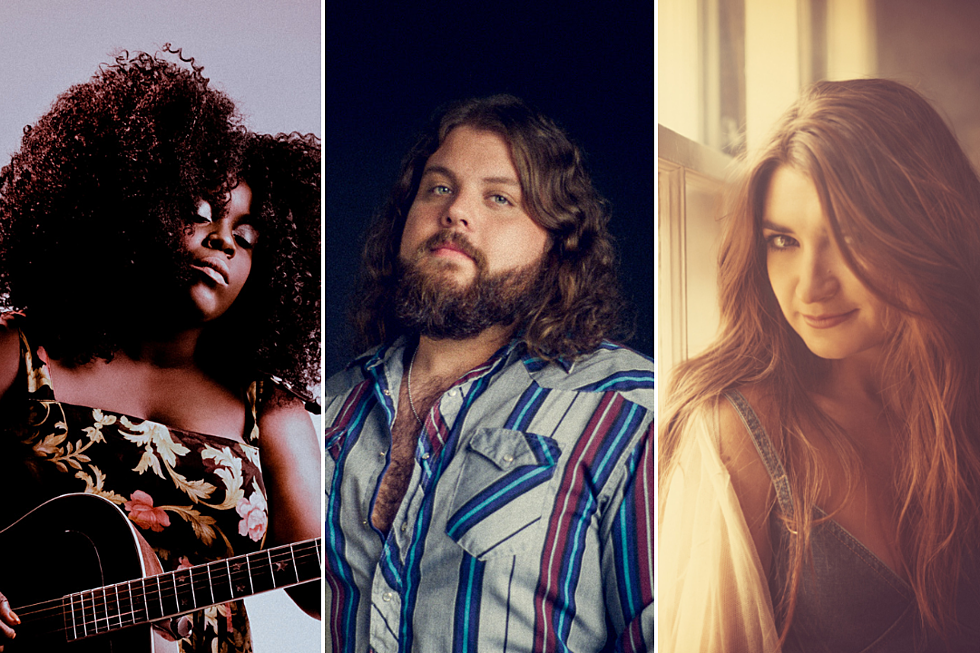 2019 Golden Mic Awards: Vote Now for Best New Live Act
Alyssa Gafkjen / Cameron Powell / Jessica Steddom
In 2018, The Boot introduced the Golden Mic Awards, and in 2019, the reader-voted digital awards series is returning for another year! Recognizing the best in live country and Americana music, The Boot's Golden Mic Awards feature nine categories of staff-selected nominees who rule the stage.
This week (April 22-26), The Boot will reveal 2019's Golden Mic Awards categories ... and then, it will be up to you, our readers, to crown the winners. After each Golden Mic Awards category is revealed, readers will be able to vote for their preferred winner in each category as often as once per hour through 11:59PM ET on May 22. We'll announce the winners on the site the next day, May 23.
Country music's live presence in towns across the nation often gets dominated by veterans, from seasoned entertainers' arena shows to legends' last runs through the state fair circuit. But don't sleep on new acts, whether they're those seasoned performers' opening acts or the headliners at quaint venues. For examples of young stars making an impact with some of their earliest trips around horn, consider these 10 nominees for Best New Live Act in the 2019 Golden Mic Awards.
National Anthem-singing, Elvis Presley-loving performer Abby Anderson sounds primed for bigger things, both onstage with the likes of summertime tourmate Rob Thomas and in the studio, where she's prepped more new music to go along with her recent single "Good Lord." Pop lyricist-turned-country performer Ingrid Andress, meanwhile, is one of the long line of artists -- from Willie Nelson and Mel Tillis to Jamey Johnson and Brandy Clark -- who started out as songwriters.
UK-born singer, songwriter and musician Jade Bird suddenly finds herself as a sought-after opening act for Americana tastemakers on both sides of the Atlantic. In the more traditional country realm, Dillon Carmichael is blazing his own trail as a honky-tonk and Southern rock-inspired live performer, despite hailing from the famous family of uncles John Michael and Eddie Montgomery.
It's downright outrageous that Song Suffragettes member, top-flight live performer and "Fight Like a Girl" singer Kalie Shorr remains unsigned. Nonetheless, she's caught our eyes and landed a spot in this 2019 Golden Mic Awards category.
Riser House / Columbia Nashville signee Mitchell Tenpenny proves himself to be one of the new faces and voices of hip-hop- and R&B-inspired country music with every new single and opportunity as a live performer. Fellow Columbia Nashville signee Tenille Townes entered the American country music fray in 2018, as the opening act on Miranda Lambert and Little Big Town's Bandwagon Tour, after sharpening her talents as one of her home country of Canada's brightest young stars.
From the opposite side of North America, a fresh face among Texas troubadours, Joshua Ray Walker, wins over live audiences with his story-driven songs, inhabited by vivid characters and livened up by biting one-liners. Dee White, meanwhile, the newest name in a consistently solid parade of young singer-songwriters, raised on country radio and enamored with the timeless voice of Roy Orbison and other '60s superstars.
UK-born, Dan Auerbach-approved singer Yola is hardly new: She first made a mark in Americana as the lead singer of the rootsy ensemble Phantom Limbs, and her first solo EP arrived in 2016. Still, this is clearly the singer's breakout year as a recording artist and live performer.
Who should win Best New Live Act in the 2019 Golden Mic Awards? Cast your vote below!
Country Music's Best Live Albums