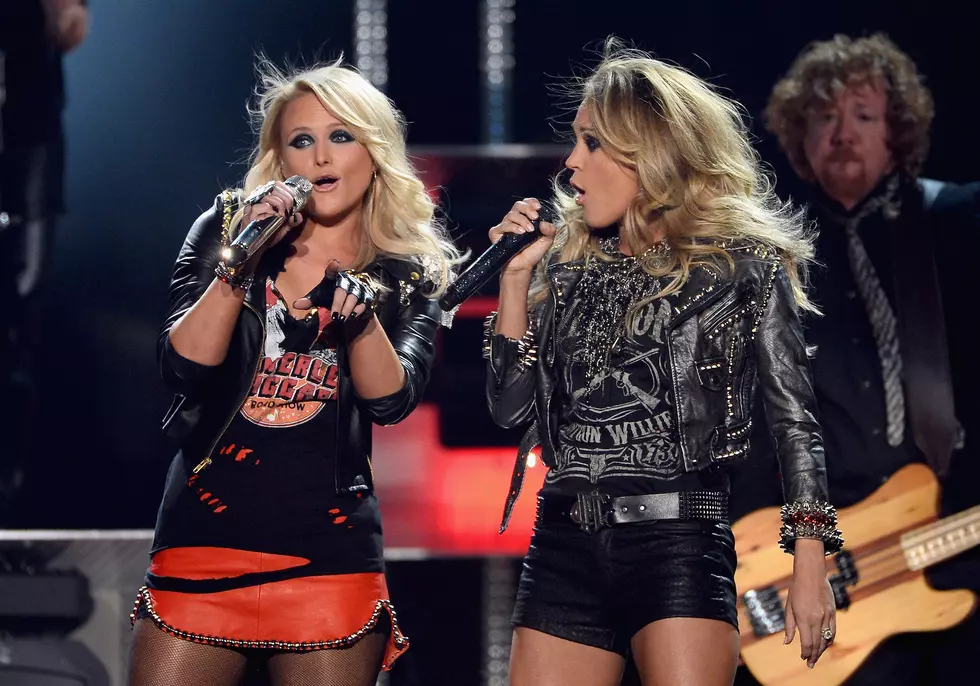 Miranda Lambert Stans Carrie Underwood for CMA Entertainer of the Year: 'She Blows Me Away'
Ethan Miller, Getty Images
"Currently being on tour with all female artists, I've been thinking a lot about all the work that goes into what we do. The most amazing job in the world. But it ain't for the faint of heart," Lambert muses. "@carrieunderwood is on an all female tour too. The Cry Pretty Tour 360. She put out her first single in 2005 and from then on country music was changed for good. That iconic voice has been classin' up our stages, charts and televisions for a decade and a half."
As two of country music's leading female artists, Underwood and Lambert are often vying for the same awards at the CMA Awards and the ACM Awards. At the CMAs specifically, Underwood won in 2006-2008, while Lambert won in 2010-2015; for the past three years, they've traded off (Underwood in '16, Lambert in '17, Underwood in '18).
"The voice. The legs. The songs. The brand. The mom. The wife. The Okie. The Jesus lover. The blonde bombshell that is Carrie. She blows me away every time I hear her sing," Lambert continues of Underwood. "She never wavers in who she is or what she stands for. She has stayed true and pushed herself to be better. If you have never heard her sing "How Great Thou Art" do yourself a favor and listen."
Lambert and Underwood are past collaborators, too: The photo Lambert shared with her Instagram post comes from a performance of their song "Somethin' Bad," a No. 1 hit from 2014.
"I have her back in this picture and I'll always have her back," Lambert concludes. "So for the sake of sequins, Spanx and spray tans, take it home! You 'Carrie' the torch!"
While Lambert is not nominated for CMA Entertainer of the Year herself this year, she and Underwood are both in the running for CMA Female Vocalist of the Year once again, alongside Kelsea Ballerini, Maren Morris and reigning ACM Female Vocalist of the Year Kacey Musgraves. Underwood is the first woman to be nominated for CMA Entertainer of the Year since 2016, and, should she win, she'll be the first female artist to win the honor since Taylor Swift in 2011. It would also be her first CMA Entertainer of the Year win.
Underwood will be co-hosting the 2019 CMA Awards, for the 12th consecutive year, with special guest co-hosts Dolly Parton and Reba McEntire. The Country Music Association is using this year's edition of the annual event to honor the genre's women in addition to presenting the usual CMA Awards trophies.
The 2019 CMA Awards are set for Nov. 13. The show will air live from Nashville's Bridgestone Arena on ABC beginning at 8PM ET.
Here's How We Hope the 2019 CMA Awards Will Celebrate Country's Women