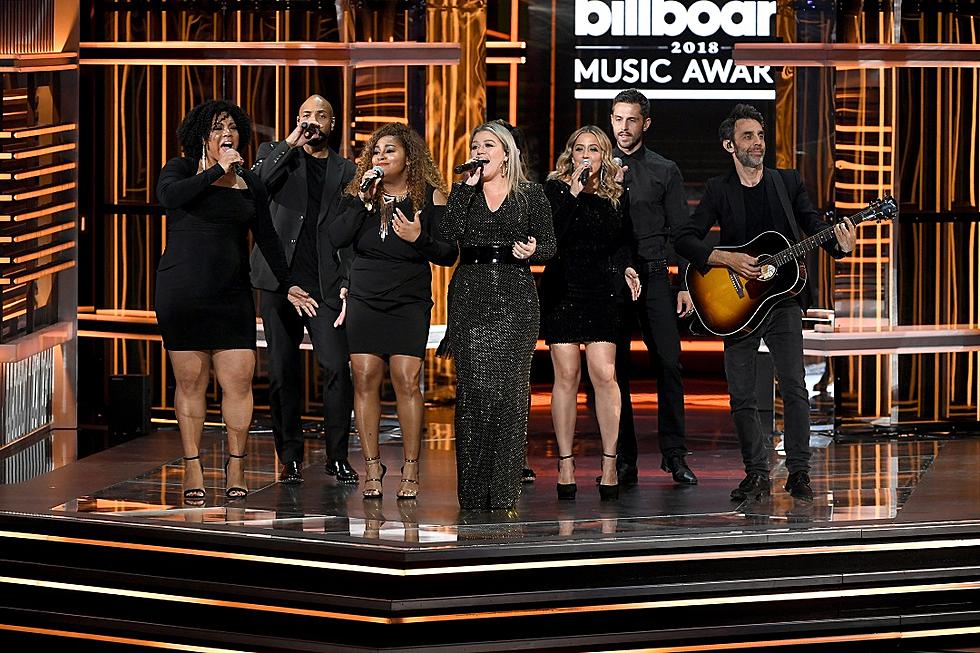 Watch Maren Morris Freak Out as Kelly Clarkson Covers 'My Church' at 2018 Billboard Music Awards
Kevin Winter, Getty Images
Kelly Clarkson gave Maren Morris one epic shoutout during Sunday night's (May 20) 2018 Billboard Music Awards. Near the start of the awards ceremony, Clarkson -- the evening's host -- performed a medley of some recent hits, beginning with Morris' "My Church."
"This for my Texas girl, Maren," Clarkson said before singing a chorus of "My Church," accompanied by an acoustic guitar player. In the crowd, TV cameras panned to Morris and her husband, Ryan Hurd, both of whom looked ecstatic to see Clarkson performing Morris' breakout single.
"BOKAY. Thank you @BBMAs for my first Billboard award + @kelly_clarkson for the epic shoutout," Morris later posted on Twitter. Prior to the 2018 BBMAs, Morris was announced as the winner of Top Country Female Artist.
Clarkson's 2018 Billboard Music Awards medley also included Sam Smith's "Too Good at Goodbyes," Kendrick Lamar's "Humble," Imagine Dragons' "Thunder," Khalid's "Young, Dumb and Broke," Bruno Mars and Cardi B's "Finesse," Ed Sheeran's "Shape of You," Shawn Mendes' "There's Nothing Holdin' Me Back" and Taylor Swift's "Look What You Made Me Do."
Clarkson opened the 2018 BBMAs with an impassioned plea for action and change in light of the school shooting on Friday (May 18) in Santa Fe, Texas. Fighting back tears, the singer noted that producers had asked her to send love, thoughts and prayers to the shooting's victims and their families, and to lead a moment of silence ... but, she said, "I am so sick of moment of silence. It's not working, like, obviously."
"Once again, y'all, we're grieving for more kids that have died for, just, an absolute no reason at all," Clarkson said. "So why don't we not do a moment of silence. Why don't we do moment of action? Why don't we do moment of change? Why don't we change what's happening, because it's horrible."
The 2018 Billboard Music Awards are airing live from Las Vegas, Nev. Before the ceremony began, Chris Stapleton had already cleaned up in a number of the country categories: The singer-songwriter was, earlier in the evening, announced as the winner of Top Country Artist, Top Country Male Artist and Top Country Album. A complete 2018 Billboard Music Awards country winners list is available here.
Country Stars Walk the 2018 Billboard Music Awards Red Carpet