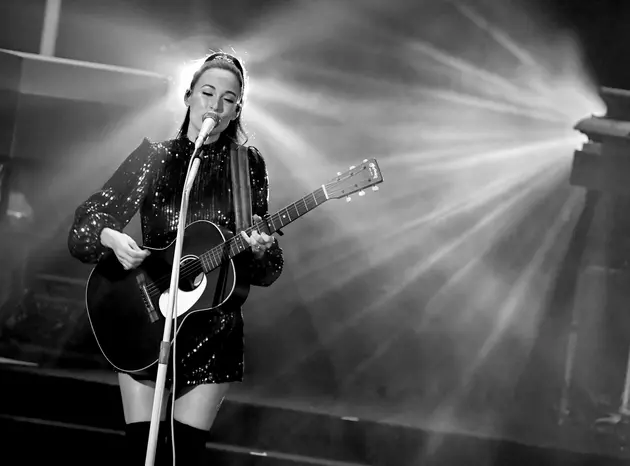 Kacey Musgraves' Oh, What a World Tour: 5 Moments You've Gotta See in Person
Getty Images
Fresh off multiple wins at the 2019 Grammy Awards, Kacey Musgraves made a triumphant return to Nashville on Wednesday night (Feb. 27), for the first of four shows at the Ryman Auditorium, part of her Oh, What a World Tour. Musgraves delighted the sold-out crowd, playing all of the tracks off her award-winning third studio album, Golden Hour, as well as fan favorites from her past two albums: her debut single "Merry Go 'Round," her 2013 hit "Follow Your Arrow" and more.
Musgraves' set was giant sing-a-long: The crowd joined in on almost every song, with Musgraves frequently turning the mic towards her fans. After they sang "Merry Go 'Round" back to her in particularly beautiful fashion, she remarked, "Are y'all a bunch of professional singers?" Musgraves worked the stage, talked with members of the audience and even pointed out a few of her friends in the crowd, making the 2,000-plus-seat venue feel more like an intimate club. As always, Musgraves' band was also perfectly on point, showing off their versatility by moving from acoustic sets to full-out rock jams from one song to the next.
Musgraves' Ryman show was, of course, a homecoming, which meant that she had more than a few surprises up her bright-pink, feathered sleeves. Here are a few of our favorite moments:
Oh, What Details!
From the stage design to the sparkly shoes sported by each member of her band, every aspect of the Oh, What a World Tour has been carefully thought out with intention and heart. Many have called Golden Hour Musgraves' rediscovery of beauty and hope, and the delicate features of her live show bring those same themes to light. Saturated in hues of blue and purple, and highlighted by rainbow strobe lights and a giant fan reminiscent of the album's cover, the set brings the sounds of Golden Hour to life in living color, making for a show that left the crowd feeling hopeful that, as Musgraves sings in "Rainbow," "It will all be alright."
Girls, They Wanna Have Fun
In a nod to her crossover success, Musgraves pulled Paramore's Hayley Williams up onstage for a rocking rendition of the classic Cyndi Lauper hit "Girls Just Wanna Have Fun." Subbing in guitar and keyboards for some of the synth-heavy portions of the song, Musgraves and Williams danced around the stage in coordinating pink outfits (not to mention, perfect vocal harmony), adding a new energy to the room and leading the crowd in one giant dance party. If fans weren't on their feet already, this moment got them up.
The Men Behind the Woman
Musgraves has been playing with most of her band for the majority of her career, and their familiarity and chemistry was a highlight on Wednesday night. Throughout the two-hour show, Musgraves looked to her bandmates to flesh out songs such as "Slow Burn" and "Follow Your Arrow," and they delivered, playing multiple instruments, providing backing vocals and bringing a style and lightness that elevated the entire show.
The "Crispy Boys," as they call themselves, in some bizarre tribute to sparkling water, moved seamlessly from an intimate, stripped-down version of "Oh, What a World," featuring cello, upright bass and banjo, to an epic, plugged-in jam session that rivaled something you might hear at a Chris Stapleton or Brothers Osborne concert. More than just a backing band, these guys are supremely talented musicians in their own right.
A Perfect Pair
When Ruston Kelly joined his wife onstage halfway through the set, it wasn't much of a surprise (this was a hometown show, after all). But knowing that the moment was coming didn't make it any less amazing -- when the duo performed "To June, This Morning" under a single spotlight, it was pure magic. Musgraves and Kelly performed the duet, originally a poem that Johnny Cash wrote to his wife in 1970, with an intimacy and love that spotlighted not only their own relationship but one of the most iconic country couples of all time.
She's Just Being Kacey
From the double middle-finger salute she asked the crowd to give at the start of the show to the bizarre confession that her horse was just diagnosed with herpes ("He's 13, he should know better by now!" she joked), Musgraves was in perfect, irreverent form on Wednesday night. Relaxed and at ease, she performed with the confidence of an artist who truly knows who she is, both on and off the stage.
Over the years, the music industry has struggled to find and define where Musgraves fits, throwing around words such as "outsider" and "rule-breaker," not always in the most positive light. And to them, she's always had the same response -- something like that double middle-finger salute. These days, however, there's a huge difference: We're all throwing up those middle fingers with her. No one is questioning where Musgraves fits anymore … and during her live performance, she never did, either.
See Photos From Kacey Musgraves' Oh, What a World Tour Stop in Philly!