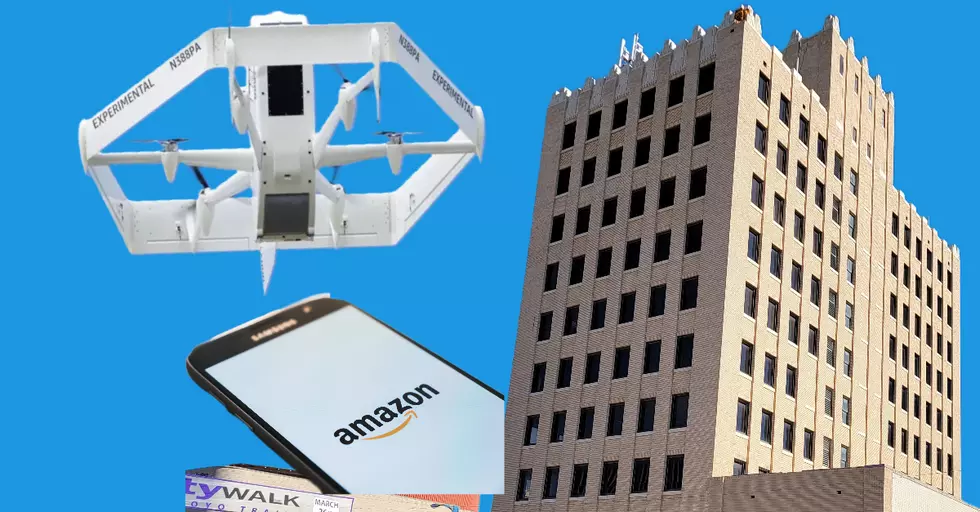 Texas City First To Test Out Amazon Drone Deliveries
Photo: Amazon Photo: Crash Kelley Townsquare Media Photo by Christian Wiediger on Unsplash
Look up in the Sky.  It's a bird. It's a plane. It's Amazon. The delivery drones are coming to Texas.
Personally, I'm convinced that if delivery drones can work anywhere, it is Texas. Think about it, there is a lot of real estate to cover.in Texas. I am only sorry that the first Texas city to test drone deliveries is College Station and not San Angelo, Abilene, or some other West Texas city.
I guess I can see why.  Amazon might be a little concerned about sending expensive drones over wide-open empty spaces like those in West Texas.  For one thing, there are a lot of West Texas ranchers who love skeet shooting.  A fully loaded delivery drone might be just too tempting a target.
The delivery drones being tested in College Station are the current MK27-2 design pictured above.  They have a hexagonal shape for increased stability, as well as propellers that the company claims will minimize high-frequency soundwaves.
Amazon's delivery drone development has not been without difficulties. There were multiple drone crashes. Many critics feared the drones would cause mayhem  At last, after getting Federal Aviation Administration approval, the drones may well be on their way across the nation.
Not everyone is convinced. Jim Williams, a former FAA official, says the ambitious goals of a full-scale drone delivery industry will almost certainly come with regrettable accidents.
I can just imagine the Farmer's Insurance commercials that will be inspired.
The convenience of drone deliveries is overwhelming. Daniel Martin, an Amazon spokesperson speaking to an August event in College Station said that these delivery drones can deliver customer packages that weigh up to five pounds in less than an hour from the time an order is placed.
Perhaps drone deliveries could reduce porch pirates. Elizabeth Cunha, a College Station City Council member thinks so.  She told a College Station television station back in August, "I'm hoping it reduces some of our porch pirates because by delivering to the backyard instead of the front porch, there's a little bit more security and I definitely think it is the wave of the future, and I am excited to be on the front end of that,"
With the recent arrest of an alleged serial porch pirate here in San Angelo, this would definitely be welcome news if it were true.
It could also make porch piracy easier.  Think about it. Instead of sneaking up to a porch, a good pirate would only need a high-powered b.b. gun to knock the drones right out of the sky. I guess, when/if that happens we'll have to come up with a new name for them.
How about "drone droppers"?
It might catch on.
I'm all about progress, and I love getting my packages fast. I must admit, though, I'm a little un-nerved about drone deliveries. I've been under a bird when it drops. I wouldn't want to be under a five-pound drone delivery when it suddenly falls out of the sky from a 500-foot cruising altitude.  That will hurt, and depending on what's in the package might be a lot harder to clean up.
Maybe, we should be glad that it's College Station and not our town that Amazon is experimenting on with drone deliveries. If you thought Covid masks were inconvenient, imagine having to wear a hard hat everywhere.
5 Reasons W. Texas is Perfect for Alien 1st Contact
5 Reasons Why West Texas Perfect for Meeting aliens