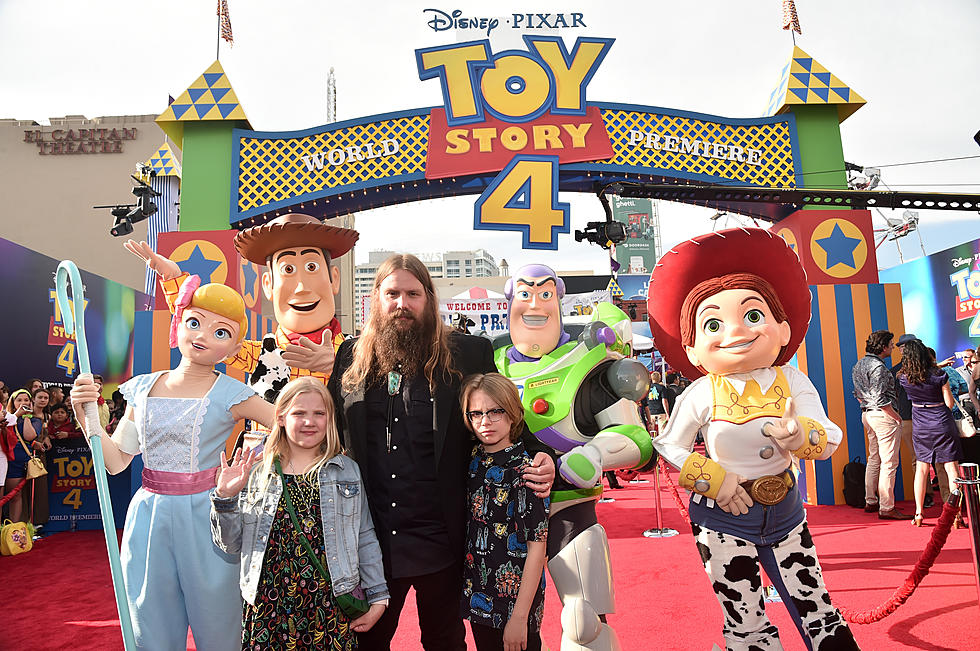 Chris Stapleton Brings His Kids to 'Toy Story 4′ Premiere [PICTURES]
Alberto E. Rodriguez, Getty Images for Disney
Toy Story 4 opens in theaters on Friday (June 21), but at least three members of the country music community have already seen it: Chris Stapleton attended the June 11 premiere of the new animated movie in Los Angeles, Calif., with his two oldest children.
Flip through the photo gallery below to see the Stapletons at the Toy Story 4 premiere. Stapleton recorded a brand-new song, "The Ballad of the Lonesome Cowboy," for the film. The traditional honky-tonk tune, driven by a marching drum beat, pairs Stapleton's instantly recognizable voice with the heartfelt yet childlike lyrics of Randy Newman, who has written originals for all four of the Toy Story movies.
"To me what has made the Toy Story films hold up over time has been the strength of the stories and the songs and the writing and the characters. There's something for people of all ages to enjoy in the world that is Toy Story," says Stapleton. "It's a tremendous honor to get to sing a Randy Newman song in what is without question one of the most iconic animated franchises in history."
Stapleton and his wife Morgane have been careful not to reveal personal details about their children -- "I signed up for this; my children did not," the country star has said of life in the spotlight -- which is what makes their appearance with him on the Toy Story 4 premiere red carpet such a surprise. He did, however, reveal that his oldest son and only daughter are named Waylon and Ada, respectively, during his Male Vocalist of the Year acceptance speech at the 2018 CMA Awards.
"I am a very private person, and in that respect, I keep my children out of it. They're children, and they deserve the chance to be children ...," Stapleton said back in 2018. "My wife comes out [in the public eye], and she's an adult, so she can choose to do that. My children did not make that choice, and [talking about them in detail in public] is, for me, kind of off limits."