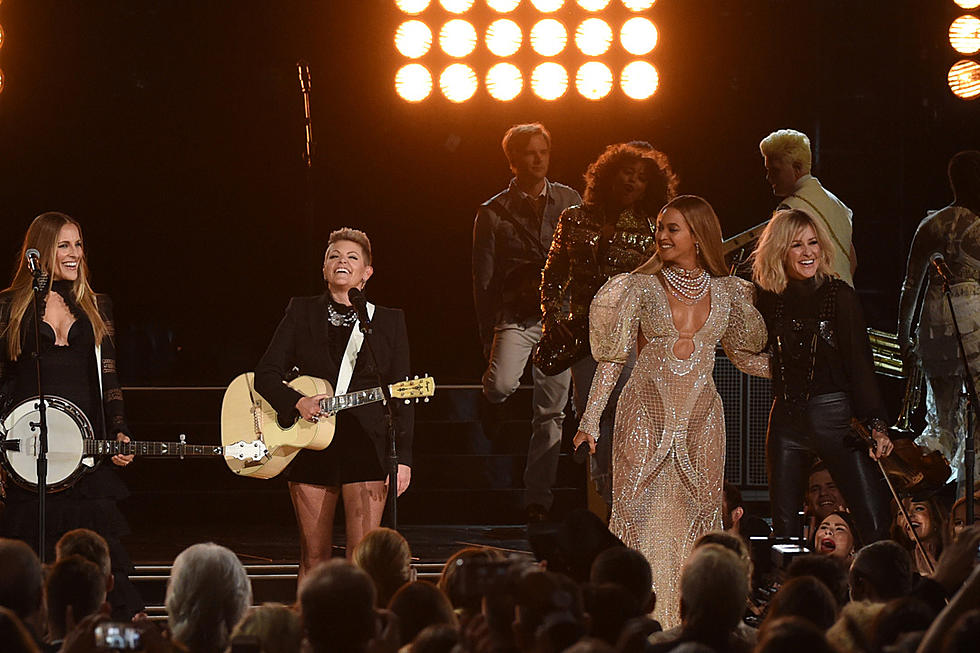 Beyonce, Dixie Chicks Team Up for 'Daddy Lessons,' 'Long Time Gone' at CMA Awards
Rick Diamond, Getty Images
Beyonce was perhaps the 2016 CMA Awards' best kept secret ... That is, until a few hours before she was slated to take the stage at the 50th annual awards show on Wednesday evening (Nov. 2).
Halfway through the show, the pop superstar joined forces with the Dixie Chicks for a spirited collaboration of her own country jam, "Daddy Lessons" off her latest surprise visual album Lemonade. During her performance she brought her Texas pop country swagger to Nashville's Bridgestone Arena.
While Beyonce's band was dressed all in white, she took the stage in a sheer and glistening ensemble. The Dixie Chicks, meanwhile, were seen in the distance clad in black. Queen Bey began the song by simply saying "Texas," while each of the Chicks repeated the name of their home state. A horn section, harmonica, tambourine and lively percussion gave the unique collaboration a feel-good backyard barn jam with stomping rhythms that had Miranda Lambert and Kelsea Ballerini visibly dancing along.
While the Chicks have frequently covered Beyonce's song throughout their tour this year, the pop star showed that she knew the country trio's music as well as the collaboration segued quickly from her hit to the Dixie Chicks' 2002 single "Long Time Gone."
A dancing saxophone player only added to the energetic number and as the song closed, Dixie Chicks approved of their fellow Texas native's performances.
"Good job, B!" was heard at the close of the song.
Artists Who've Gone Country Without Warning
See Country's Nastiest Feuds