Eddie Montgomery Collapses During Show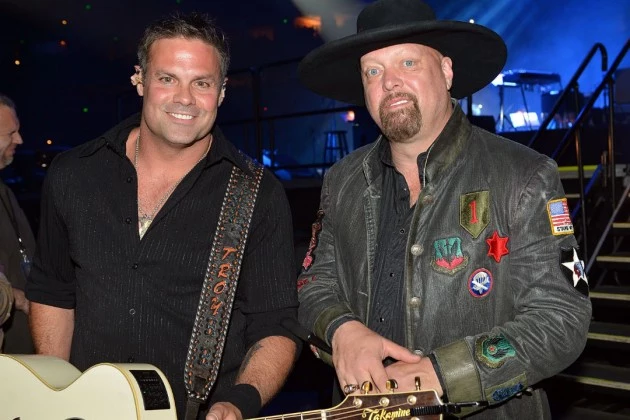 Eddie Montgomery is going to be okay. After collapsing onstage during a show at Cornstock Concert on the Hill, the Montgomery Gentry singer and his bandmate now say that Montgomery was just dehydrated.
Country Rebel reports that medics were onstage "within seconds" after Montgomery collapsed, and that the singer walked offstage into an ambulance. Troy Gentry played four solo songs before his bandmate rejoined him.
Rumors have been swirling that the singer suffered a heart attack, likely because of this tweet. However, the band tweeted that this is not true.
There are false reports floating around that Eddie had a heart attack last night. NOT TRUE. He was dehydrated and returned to the stage.

— Montgomery Gentry (@mgunderground) September 25, 2016
To further quell fans' concerns, Montgomery sent this photo of himself and his wife as proof of life, thanking fans for their concern.
Eddie and Jennifer send their regards from Key West and thanks for all of the prayers and well wishes. And he's drinking plenty of H20! pic.twitter.com/xCJlTZCIHX

— Montgomery Gentry (@mgunderground) September 25, 2016
Montgomery Gentry are currently on a nationwide tour, with show dates listed into early 2017. For tickets, dates and locations, visit the band's website.
Montgomery Gentry + Other Artists Who Have Suffered Terrible Tragedies

Source:
Eddie Montgomery Collapses During Show